NOW SHOWING!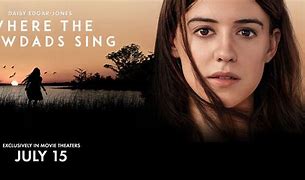 Where The Crawdads Sing
From: August 12th, 2022
Thru: August 18th, 2022
Evening Showtime: 7 PM
From the best-selling novel comes a captivating mystery. Where the Crawdads Sing tells the story of Kya, an abandoned girl who raised herself to adulthood in the dangerous marshlands of North Carolina. For years, rumors of the "Marsh Girl" haunted Barkley Cove, isolating the sharp and resilient Kya from her community. Drawn to two young men from town, Kya opens herself to a new and startling world; but when one of them is found dead, she is immediately cast by the community as the main suspect. As the case unfolds, the verdict as to what actually happened becomes increasingly unclear, threatening to reveal the many secrets that lay within the marsh. This movie is rated PG and has a runtime of 2 hours and 5 minutes.
MOVIE ADMISSIONS
We accept Cash & Debit – touchless payment options.
$12.50 GENERAL ADMISSION
$9 CHILD (only when accompanied by supervising Adult)
$10 SENIORS (65 +)
$10 MATINEE ADULT
$9 MATINEE SENIOR
Raven's Cry Theatre is proud to support our wonderful Sunshine Coast BC community. In addition to our first run movies, we also support learning events, charitable organizations, plays and dance academy's. Other events offered for our diverse community include the Sunshine Coast Films Society, the Coast Recital Society and the Metropolitan Opera!
We also proudly support our Business community with our Rent the Theatre packages, such as Annual Fundraisers for the Sechelt Hospital, and business and corporate Annual General Meetings. All groups are welcome.
If you are looking to Advertise your Business, Organization or Art Group – our Pre-Movie advertising experience is definitely an eye-catcher! We entertain our patrons with stunning original artwork from some of the best Sunshine Coast Artists – mixed with creative ads from our local Business Community.
Check out our theatre by clicking on any of the following links…
Movies – Events – Advertising – Rent the Theatre – Find Us!
Come see what's happening!
Raven's Cry Theatre
5559 Sunshine Coast Hwy
Sechelt, Sunshine Coast BC