Now Showing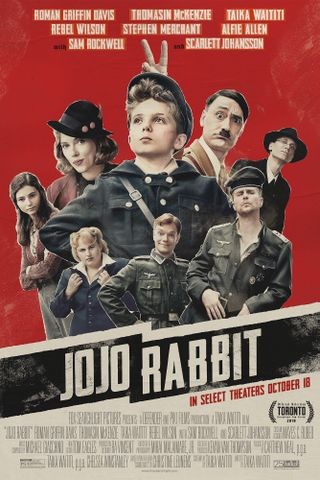 Jojo Rabbit
From: February 21st, 2020
Thru: February 23rd, 2020
Evening Showtime: 7:00 PM
Matinee Showtime: 2:00pm
Matinee Days: Sunday Only
Writer director Taika Waititi (THOR: RAGNAROK, HUNT FOR THE WILDERPEOPLE), brings his signature style of humor and pathos to his latest film, JOJO RABBIT, a World War II satire that follows a lonely German boy (Roman Griffin Davis as Jojo) whose world view is turned upside down when he discovers his single mother (Scarlett Johansson) is hiding a young Jewish girl (Thomasin McKenzie) in their attic. Aided only by his idiotic imaginary friend, Adolf Hitler (Taika Waititi), Jojo must confront his blind nationalism. Playing Friday February 21,2020 until Sunday February 23,2020.
MOVIE ADMISSIONS
**Please NOTE: We currently accept 'Cash Only'.
$11 ALL AGES
$8 CHILD (only when accompanied by supervising Adult)
$9 MATINEES
$9 SENIORS (65 +) Monday & Tuesday only
-- GST included
Coming Soon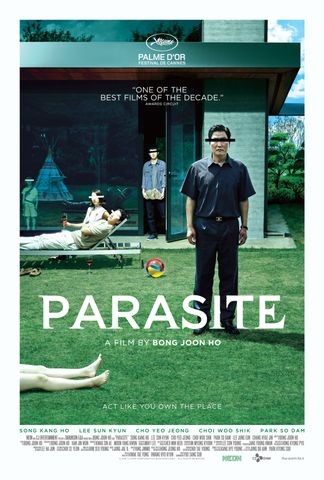 Parasite
From: February 24th, 2020
Thru: February 27th, 2020
Evening Showtime: 7:00 PM
Matinee Showtime: 2:00pm
Matinee Days: Wednesday Only
Bong Joon Ho brings his work home to Korea in this pitch-black modern fairytale. Meet the Park Family: the picture of aspirational wealth. And the Kim Family, rich in street smarts but not much else. Be it chance or fate, these two houses are brought together and the Kims sense a golden opportunity. Masterminded by college-aged Ki-woo, the Kim children expediently install themselves as tutor and art therapist, to the Parks. Soon, a symbiotic relationship forms between the two families. The Kims provide "indispensable" luxury services while the Parks obliviously bankroll their entire household. When a parasitic interloper threatens the Kims' newfound comfort, a savage, underhanded battle for dominance breaks out, threatening to destroy the fragile ecosystem between the Kims and the Parks. Showing Monday February 24 to Thursday February 27,2020
Coming Soon
Sonic The Hedgehog
From: February 28th, 2020
Thru: March 5th, 2020
Evening Showtime: 7:00 PM
Matinee Showtime: 2:00pm
Matinee Days: Sunday and Wednesday
SONIC THE HEDGEHOG is a live-action adventure comedy based on the global blockbuster video game franchise from Sega that centers on the infamously brash bright blue hedgehog. The film follows the (mis)adventures of Sonic as he navigates the complexities of life on Earth with his newfound — human — best friend Tom Wachowski (James Marsden). Sonic and Tom join forces to try and stop the villainous Dr. Robotnik (Jim Carrey) from capturing Sonic and using his immense powers for world domination. The film also stars Tika Sumpter and Ben Schwartz as the voice of Sonic.
Raven's Cry Theatre is proud to support our wonderful Sunshine Coast BC community. In addition to our first run movies, we also support learning events, charitable organizations, plays and dance academy's. Other events offered for our diverse community include the Sunshine Coast Films Society, the Coast Recital Society and the Metropolitan Opera!
We also proudly support our Business community with our Rent the Theatre packages, such as Annual Fundraisers for the Sechelt Hospital, and business and corporate Annual General Meetings. All groups are welcome.
If you are looking to Advertise your Business, Organization or Art Group -- our Pre-Movie advertising experience is definitely an eye-catcher! We entertain our patrons with stunning original artwork from some of the best Sunshine Coast Artists -- mixed with creative ads from our local Business Community.
Check out our theatre by clicking on any of the following links…
Movies -- Events -- Advertising -- Rent the Theatre -- Find Us!
Come see what's happening!
Raven's Cry Theatre
5559 Sunshine Coast Hwy
Sechelt, Sunshine Coast BC