Now Showing
Ford vs Ferrari
From: December 6th, 2019
Thru: December 12th, 2019
Evening Showtime: 7:00pm
Matinee Showtime: 2:00pm
Matinee Days: Sunday and Wednesday
Academy Award-winners Matt Damon and Christian Bale star in FORD v FERRARI, based on the remarkable true story of the visionary American car designer Carroll Shelby (Damon) and the fearless British-born driver Ken Miles (Bale), who together battled corporate interference, the laws of physics, and their own personal demons to build a revolutionary race car for Ford Motor Company and take on the dominating race cars of Enzo Ferrari at the 24 Hours of Le Mans in France in 1966. Rated PG with coarse language and violence. Runtime 2 hours 33 minutes.
MOVIE ADMISSIONS
**Please NOTE: We currently accept 'Cash Only'.
$11 ALL AGES
$8 CHILD (only when accompanied by supervising Adult)
$9 MATINEES
$9 SENIORS (65 +) Monday & Tuesday only
– GST included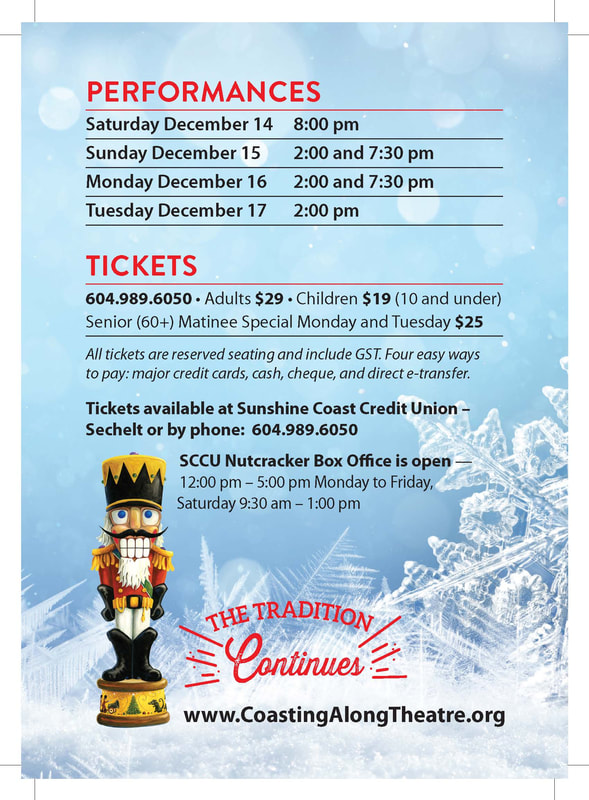 Nutcracker 2019
From: December 14th, 2019
Thru: December 17th, 2019
The Coasting Along Theatre Society is proud to present their ever-popular live performance: Nutcracker 2019!  Tickets are selling fast so call 604 989-6050 before they are sold out!!
Ticket Prices
Adults  $29
Children $19 (10 and under)Senior (60+) Matinee Special
Monday and Tuesday $25
Coming Soon
Knives Out
From: December 18th, 2019
Thru: December 19th, 2019
Evening Showtime: 7:00pm
Matinee Showtime: 2:00pm
Matinee Days: Wednesday
Acclaimed writer and director Rian Johnson (Brick, Looper, Star Wars: The Last Jedi) pays tribute to mystery mastermind Agatha Christie in KNIVES OUT, a fun, modern-day murder mystery where everyone is a suspect. When renowned crime novelist Harlan Thrombey (Christopher Plummer) is found dead at his estate just after his 85th birthday, the inquisitive and debonair Detective Benoit Blanc (Daniel Craig) is mysteriously enlisted to investigate. From Harlan's dysfunctional family to his devoted staff, Blanc sifts through a web of red herrings and self-serving lies to uncover the truth behind Harlan's untimely death. With an all-star ensemble cast including Chris Evans, Ana de Armas, Jamie Lee Curtis, Toni Collette, Don Johnson, Michael Shannon, LaKeith Stanfield, Katherine Langford and Jaeden Martell, KNIVES OUT is a witty and stylish whodunit guaranteed to keep audiences guessing until the very end. Rated PG with coarse language and violence. Runtime is 2hr and 11min.
Raven's Cry Theatre is proud to support our wonderful Sunshine Coast BC community. In addition to our first run movies, we also support learning events, charitable organizations, plays and dance academy's. Other events offered for our diverse community include the Sunshine Coast Films Society, the Coast Recital Society and the Metropolitan Opera!
We also proudly support our Business community with our Rent the Theatre packages, such as Annual Fundraisers for the Sechelt Hospital, and business and corporate Annual General Meetings. All groups are welcome.
If you are looking to Advertise your Business, Organization or Art Group – our Pre-Movie advertising experience is definitely an eye-catcher! We entertain our patrons with stunning original artwork from some of the best Sunshine Coast Artists – mixed with creative ads from our local Business Community.
Check out our theatre by clicking on any of the following links…
Movies – Events – Advertising – Rent the Theatre – Find Us!
Come see what's happening!
Raven's Cry Theatre
5559 Sunshine Coast Hwy
Sechelt, Sunshine Coast BC