Now Showing…
Angel Has Fallen
From: September 13th, 2019
Thru: September 19th, 2019
Evening Showtime: 7:00pm
Matinee Showtime: 2:00pm
Sundays & Wednesdays
*** No Sunday Matinee – See Angry Birds 2 Below ***

When there is an assassination attempt on U.S. President Allan Trumbull (Morgan Freeman), his trusted confidant, Secret Service Agent Mike Banning (Gerard Butler), is wrongfully accused and taken into custody. After escaping from capture, he becomes a man on the run and must evade his own agency and outsmart the FBI in order to find the real threat to the President. Desperate to uncover the truth, Banning turns to unlikely allies to help clear his name, keep his family from harm and save the country from imminent danger. Matinee only on Wednesday Sept 18th.  Rated 14 A with coarse language and violence.
MOVIE ADMISSIONS
**Please NOTE: We currently accept 'Cash Only'.
$11 ALL AGES
$8 CHILD (only when accompanied by supervising Adult)
$9 MATINEES
$9 SENIORS (65 +) Monday & Tuesday only
– GST included
Enjoy your summer movie experience in the refreshing coolness of our air conditioned theatre!
We have 7.1 Dolby Digital Audio Sound!
We offer our audience a superior movie-going experience!
We support our Arts Community & Business Community.
Rent our Theatre for your upcoming event!
Now Showing
Angry Birds 2 Saturday Sunday Matinee @ 2pm
From: September 14th, 2019
Thru: September 15th, 2019
Evening Showtime: 2:00pm
Matinee Showtime: 2:00pm
Daily
The flightless angry birds and the scheming green piggies take their beef to the next level in The Angry Birds Movie 2! When a new threat emerges that puts both Bird and Pig Island in danger, Red (Jason Sudeikis), Chuck (Josh Gad), Bomb (Danny McBride), and Mighty Eagle (Peter Dinklage) recruit Chuck's sister Silver (Rachel Bloom) and team up with pigs Leonard (Bill Hader), his assistant Courtney (Awkwafina), and techpig Garry (Sterling K. Brown) to forge an unsteady truce and form an unlikely superteam to save their homes.
Coming Soon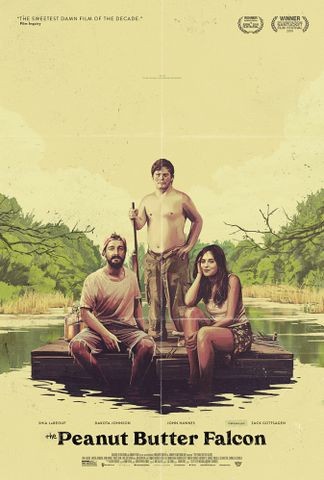 Peanut Butter Falcon
From: September 20th, 2019
Thru: September 26th, 2019
Evening Showtime: 7:30pm
Matinee Showtime: 2:00pm
Daily
A modern Mark Twain style adventure story, THE PEANUT BUTTER FALCON tells the story of Zak (Zack Gottsagen), a young man with Down syndrome, who runs away from a residential nursing home to follow his dream of attending the professional wrestling school of his idol, The Salt Water Redneck (Thomas Haden Church). A strange turn of events pairs him on the road with Tyler (Shia LaBeouf), a small time outlaw on the run, who becomes Zak's unlikely coach and ally. Together they wind through deltas, elude capture, drink whisky, find God, catch fish, and convince Eleanor (Dakota Johnson), a kind nursing home employee charged with Zak's return, to join them on their journey.
Raven's Cry Theatre is proud to support our wonderful Sunshine Coast BC community. In addition to our first run movies, we also support learning events, charitable organizations, plays and dance academy's. Other events offered for our diverse community include the Sunshine Coast Films Society, the Coast Recital Society and the Metropolitan Opera!
We also proudly support our Business community with our Rent the Theatre packages, such as Annual Fundraisers for the Sechelt Hospital, and business and corporate Annual General Meetings. All groups are welcome.
If you are looking to Advertise your Business, Organization or Art Group – our Pre-Movie advertising experience is definitely an eye-catcher! We entertain our patrons with stunning original artwork from some of the best Sunshine Coast Artists – mixed with creative ads from our local Business Community.
Check out our theatre by clicking on any of the following links…
Movies – Events – Advertising – Rent the Theatre – Find Us!
Come see what's happening!
Raven's Cry Theatre
5559 Sunshine Coast Hwy
Sechelt, Sunshine Coast BC