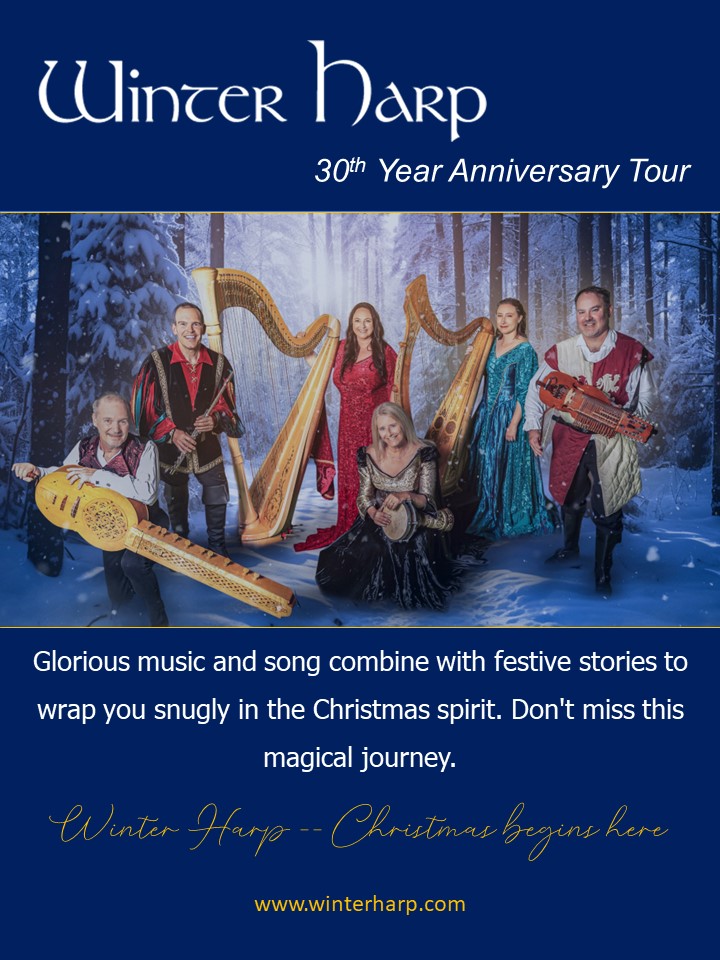 Winter Harp
Date(s): December 2nd, 2023
Showtime: 2:30 PM, Doors at 2:00 PM
This December, Winter Harp returns to stages across BC on its 30th Anniversary Tour, with 15 performances on Vancouver Island and the Lower Mainland.
During this tour, expect to hear some of Winter Harp's best-loved stories and carols from its three decades of performances.
This acclaimed ensemble is renowned for delivering beautiful, soul-stirring presentations. Concerts are "must-see" events on holiday calendars, with many audience members returning year after year – passing the Winter Harp tradition on to new generations. What has audiences returning again and again is the sheer wonder of the concert experience that captures the joyful spirit of the season.
Winter Harp's musicians, clad in gorgeous medieval attire, perform a collection of music ranging from familiar carols to Celtic and medieval carols. The hauntingly-beautiful music features a fascinating combination of harps, drums, temple bells, flutes, bass flute, viola and an assortment of rare medieval instruments. These include the bass psaltery, organistrum, hurdy-gurdy and nyckelharpa.
Winter Harp features Lauri Lyster (percussion, vocals), Jeff Pelletier (flute, bass flute, hurdy-gurdy, concertina, vocals), Lani Krantz (classical harp, bass psaltery, vocals), Hayley Farenholtz (Celtic harp, melodica, penny whistle, psaltery, vocals), Bruce Henczel (nyckelharpa, viola, fiddle, percussion, vocals), Sabrielle McCurdy-Foreman (vocals) and Adam Henderson (narrator, percussion, organistrum).
More information at www.winterharp.com
---