Raven's Cry Theatre Movies!
We provide all of the very best 1st Run Movies & Entertainment right here in our beautiful and comfortable theatre.
Current Shows
Now Showing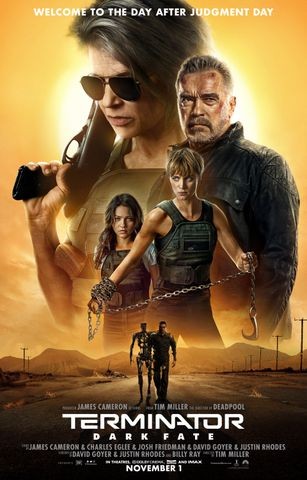 Terminator Dark Fate
From: November 8th, 2019
Thru: November 14th, 2019
Evening Showtime: 7pm
Matinee Showtime: 2pm
Sunday and Wednesday
More than two decades have passed since Sarah Connor prevented Judgment Day, changed the future, and re-wrote the fate of the human race. Dani Ramos (Natalia Reyes) is living a simple life in Mexico City with her brother (Diego Boneta) and father when a highly advanced and deadly new Terminator — a Rev-9 (Gabriel Luna) — travels back through time to hunt and kill her. Dani's survival depends on her joining forces with two warriors: Grace (Mackenzie Davis), an enhanced super-soldier from the future, and a battle-hardened Sarah Connor (Linda Hamilton). As the Rev-9 ruthlessly destroys everything and everyone in its path on the hunt for Dani, the three are led to a T-800 (Arnold Schwarzenegger) from Sarah's past that may be their last best hope.
Coming Next
Zombieland 2 Double Tap
From: November 15th, 2019
Thru: November 17th, 2019
Evening Showtime: 7pm
Matinee Showtime: 2:00pm
Sunday Only
Text expanded.
A decade after Zombieland became a hit film and a cult classic, the lead cast (Woody Harrelson, Jesse Eisenberg, Abigail Breslin, and Emma Stone) have reunited with director Ruben Fleischer (Venom) and the original writers Rhett Reese & Paul Wernick (Deadpool) for Zombieland: Double Tap. In the sequel, written by Rhett Reese & Paul Wernick and Dave Callaham, through comic mayhem that stretches from the White House and through the heartland, these four slayers must face off against the many new kinds of zombies that have evolved since the first movie, as well as some new human survivors. But most of all, they have to face the growing pains of their own snarky, makeshift family.
Coming Soon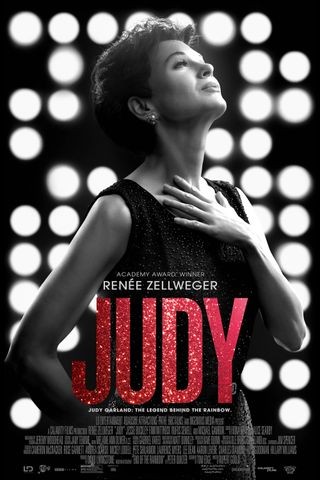 Judy
From: November 18th, 2019
Thru: November 21st, 2019
Evening Showtime: 7:00 PM
Matinee Showtime: 2:00pm
Wednesday Matinee Only
Winter 1968 and showbiz legend Judy Garland arrives in Swinging London to perform a five-week sold-out run at The Talk of the Town. It is 30 years since she shot to global stardom in The Wizard of Oz, but if her voice has weakened, its dramatic intensity has only grown. As she prepares for the show, battles with management, charms musicians and reminisces with friends and adoring fans, her wit and warmth shine through. Even her dreams of love seem undimmed as she embarks on a whirlwind romance with Mickey Deans, her soon-to-be fifth husband. Featuring some of her best-known songs, the film celebrates the voice, the capacity for love, and the sheer pizzazz of "the world's greatest entertainer."
Previously Shown
November 9th, 2019 9:55 AM
MADAMA BUTTERFLY (LIVE)
From: November 9th, 2019
Thru: November 9th, 2019
Giacomo Puccini's Madama Butterfly
Leading sopranos Hui He and Ana María Martínez share the heartbreaking title role of the doomed geisha, with tenors Piero Pretti and Andrea Carè as the American naval officer who abandons her. Paulo Szot and Markus Brück share the role of Sharpless, and Elizabeth DeShong is Suzuki, alternating with Maria Zifchak. Pier Giorgio Morandi is on the podium for Anthony Minghella's sweeping production, a perennial audience favorite.
*This event is 3 hours and 32 minutes in length.
Previously Shown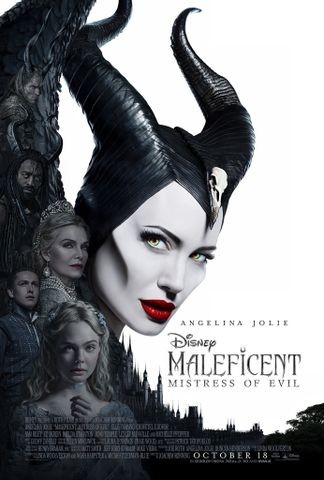 Maleficent 2 Mistress of Evil
From: November 1st, 2019
Thru: November 7th, 2019
Evening Showtime: 7:00 PM
Matinee Showtime: 2:00 PM
Sunday and Wednesday
In Disney's "Maleficent: Mistress of Evil," a sequel to the 2014 global box office hit, Maleficent and her goddaughter Aurora begin to question the complex family ties that bind them as they are pulled in different directions by impending nuptials, unexpected allies and dark new forces at play. The years have been kind to Maleficent and Aurora. Their relationship, born of heartbreak, revenge and ultimately love, has flourished. Yet the hatred between man and the fairies still exists. Aurora's impending marriage to Prince Phillip is cause for celebration in the kingdom of Ulstead and the neighboring Moors, as the wedding serves to unite the two worlds. When an unexpected encounter introduces a powerful new alliance, Maleficent and Aurora are pulled apart to opposing sides in a Great War, testing their loyalties and causing them to question whether they can truly be family.
SCFS – Can You Ever Forgive Me?
From: November 2nd, 2019
Thru: November 2nd, 2019
Matinee Showtime: 2:00 PM
Saturday only
The Sunshine Coast Film Society presents Can You Ever Forgive Me? … a bizarre, compelling, tale about real-life biographer Lee Israel's huge talent and subsequent descent into alcoholism and artistic deception on a grand scale.
The Joker
From: October 25th, 2019
Thru: October 31st, 2019
Evening Showtime: 7:00 PM
Matinee Showtime: 2:00 PM
Wednesday Matinee Only
"Joker" centers around the iconic arch nemesis and is an original, standalone fictional story not seen before on the big screen. Phillips' exploration of Arthur Fleck, who is indelibly portrayed by Joaquin Phoenix, is of a man struggling to find his way in Gotham's fractured society. A clown-for-hire by day, he aspires to be a stand-up comic at night… but finds the joke always seems to be on him. Caught in a cyclical existence between apathy and cruelty, Arthur makes one bad decision that brings about a chain reaction of escalating events in this gritty character study.
Saturday Oct 26th at 9:55AM 1 Day Only
Manon (Live)
From: October 26th, 2019
Thru: October 26th, 2019
Matinee Showtime: 9:55 AM
Matinee October 26th Only
Metropolitan Opera
Length: 4 Hours and 12 Minutes
ACT I
France, the 1940s. A square in Amiens. Edmondo, a songwriter, and his student companions flirt with some factory girls. His friend, des Grieux, also a student, stays apart from them. A coach arrives, bringing Geronte, a tax collector, and Lescaut, a soldier, who is accompanying his younger sister, Manon. Des Grieux falls in love with her at first sight, finds out that her father is sending her to a convent, and makes plans to prevent this from happening. But Geronte, with Lescaut's connivance, intends to abduct Manon. Edmondo overhears his plans and warns des Grieux, who escapes with Manon to Paris. Lescaut consoles Geronte by telling him that Manon will not stay long with a student and that he will bring her back to him.
ACT II
A house in Paris. Manon has left des Grieux and is living a life of luxury with Geronte. She's bored and her brother promises to arrange for des Grieux to visit her. Some singers serenade Manon with a madrigal written by Geronte. Then she dances and sings for him and his friends. When they leave she tells Geronte that she will follow shortly, but des Grieux appears and Manon starts to seduce him. Geronte interrupts their lovemaking, chillingly threatens the two of them, and leaves, telling them he will return soon. Lescaut runs in, warning the lovers that Geronte is going to get Manon arrested and that she must escape. She delays, trying to collect her jewelry, but is arrested before she can escape.
Intermezzo
Imprisonment: The journey to Le Havre. The thoughts of des Grieux.
ACT III
Outside a prison in Le Havre by the harbor. Dawn. Des Grieux waits outside the prison where Manon is held. Lescaut bribes a sentry to allow his sister to spend time with des Grieux, while he organizes a group to enable her escape. The effort fails, a shot is fired. Townspeople run in. The soldiers restore order and the captain of the ship processes Manon and the other prisoners—mostly prostitutes—before they are deported. In desperation des Grieux grabs Lecsaut's weapon and threatens the captain, who faces him down. Des Grieux pleads with the captain to be allowed to sail with them as one of the crew.
ACT IV
A desert. Des Grieux and Manon are on the run. They are at the end of their strength, collapsing from thirst and exhaustion. Des Grieux leaves Manon, searching for water. When he returns, he finds her dying. In her last breath she says she loves him.
Previously Shown
Downton Abbey
From: October 18th, 2019
Thru: October 24th, 2019
Evening Showtime: 7:00 PM
Matinee Showtime: 2:00 PM
Sunday, Tuesday and Wednesday.
This fall, the worldwide phenomenon DOWNTON ABBEY, becomes a grand motion picture event, as the beloved Crawleys and their intrepid staff prepare for the most important moment of their lives. A royal visit from the King and Queen of England will unleash scandal, romance and intrigue that will leave the future of Downton hanging in the balance. Runtime 2hr 2min. Rated PG.
Previously Shown
Body Of Light
From: October 18th, 2019
Thru: October 19th, 2019
Matinee Showtime: 2:00 PM
When artist and filmmaker Gordon Halloran had to make an emergency visit to hospital a few years ago, the experience sparked a new creative interest for one of the oldest of the arts, healing. Halloran had worked frequently with his unique art form, creating ice sculptures for the 2006 Olympics in Italy and again in 2010 for Vancouver's winter games. He worked in minus zero weather for long hours, often becoming dehydrated from the cold, which eventually brought him to the brink of kidney failure. It was time to move away from working with ice.
Yet, ice is the perfect metaphor for his latest film, Body of Light."Ice holds its form as long as it's supported," said Halloran. That's like our lives – we can hold on as long as we get support from our family, friends and community.
In Body of Light, previewed at the Raven's Cry Theatre in Sechelt on Feb. 27, he explored the concept of support for healing by interviewing many practitioners, patients and caregivers on the Sunshine Coast. The theme of healing blossomed into many themes: release of illness, preparation for dying, the importance of fitness, the concept of wellness. In fact, there are as many themes as there are people interviewed for this film.
Treat your body well, said Pilates instructor Katherine Denham. Terry Aleck told how he had processed the baggage from his residential school experience and has kept healthy and sober. Laughter works for fun facilitator Jill Shatford and for story-teller David Roche. Elija Waxman, a vigorous golfer, gives a stellar demonstration of just what a healthy body can do by holding his body in the air horizontally, using his core strength. Dr. Berenstein talks about living in the moment and reducing stress.
Body of Light is a production of Fat Salmon Cinema presented by executive producer Lolly de Jonge and directed by Halloran with a narrative voice-over performed by Caitlin Hicks. De Jonge and Halloran were on hand to answer questions about the film in which Halloran acted as the writer, cinematographer and sound designer. The film is the culmination of work begun for the Sechelt Arts Festival in 2014 and presented there as a combination theatrical/filmic exploration. This preview was strictly for the home crowd and the film will premiere at the Calgary Film Festival in October.
Was making the film healing for you? a member of the audience asked Halloran. There's a message inherent in the film that answers that question – that it indeed takes the entire community, particularly Halloran's home community of Roberts Creek, to give the energy flow that the body of light needs.
1 Day Only! Oct. 19th 2pm
Custody
From: October 19th, 2019
Thru: October 19th, 2019
Evening Showtime: 2:00 PM
Matinee Showtime: 2:00 PM
Winner of the César (French Oscar) for best film of 2018 and Best Director at the Venice Film Festival, Custody tackles the difficult yet familiar subject of domestic terrorism and the trauma of family breakup. Director Xavier Legrand creates gruelling reality and a relentlessly growing sense of doom, leading to a searing conclusion. Flawlessly and realistically acted by the three central performers, particularly the ten-year old boy at the centre of the custody battle, this is a tense and gripping film experience that illustrates domestic violence and obsession in a way that makes the fear real.
Previously Shown
Addams Family
From: October 10th, 2019
Thru: October 17th, 2019
Evening Showtime: 7:00 PM
Matinee Showtime: 2:00 PM
***We will have Matinees on Sunday, Monday and Wednesday***
Get ready to snap your fingers! The first family of Halloween, the Addams Family, is back on the big screen in the first animated comedy about the kookiest family on the block. Funny, outlandish, and completely iconic, the Addams Family redefines what it means to be a good neighbor.
We will have Matinees on Sunday, Monday and Wednesday.
Check out all of the fun at Raven's Cry Theatre!
We also support our local business community by providing the very best in Community Advertising.
Home – Events – Advertising – Rent the Theatre – Find Us!
Come see what's happening!
Raven's Cry Theatre
5559 Sunshine Coast Hwy
Sechelt, Sunshine Coast BC